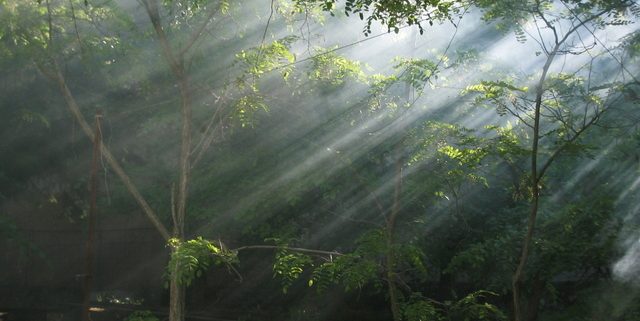 Upon a long and warm summer, we now sense the breath of the Autum. I asked a woman today, what I should write in blog. She knew immediately what to suggest: "Write about the rain. About people complaining about the rain".
There is no bad weather
Well – I think I'll dare going a little further and write about the weather in general. If we don't have anything else to talk about, we can always choose the weather – right?
"Oh no it is raining again"
"Ooof – It is storming – I am cold and almost falling"
"What a horribly cold – I am freezing even more than before"
"Puh – It is terribly hot today – I am sweating"
Being properly dressed on the outside as well as on the inside
To me there is no bad weather. It is all about being properly dressed. And not only the clothes, but also on the inside. It doesn't matter that you are dressed in expensive rainclothes, if you are walking around complaining about the weather at the same time. No – instead of complaining, you should try:
to dress according to the weather
to accept that right now the weather is like this, and you cannot do anything to change it
to be present in the weather
to be grateful that you are allowed to experience, how the weather is today
Look for opportunities instead of obstacles
Very often the weather causes people to prevent themselves to achieve some fantastic experiences. I need to stress out that I do not say that we ought to ignore dangerous weather. There is a great difference between being adventurous and being reckless. No – what I mean is that we are sometimes refusing to get some adventures, just because we have not discovered that walking around in a rainy forrest can be an adventurer in itself. The visions – the smells – the sounds – and not at least your sense of being alive.
Mindfulness, hot chocolate and buns
An then – after such a rainy adventure in the the autum forrest, you return home, filled with mindfulness in your head – happines in your heart – chestnuts and cones in the pockets of your rain coat – and then it is nice that there is something called hot chocolate and buns with butter.
Have a fantastic (and adventurous) weekend – Life is waiting for you!
Follow Esther's Friday Blog on Facebook
https://www.reikihealer.dk/wp-content/uploads/2018/08/regn-1.jpg
480
640
Reikihealer
https://www.reikihealer.dk/wp-content/uploads/2017/12/Reikimester-Esther-Økær.png
Reikihealer
2018-08-31 11:11:40
2018-08-30 22:36:42
Oh no – it is raining again